To say that I'm a Michael Nesmith fan is putting it mildly. He's been my number one musical influence, along with the other Monkees of course, for as long as I can remember. Imagine my surprise when I came across the name 'Nesmith' on a piece of guitar music from 1915. 
While looking for my next sheet music project, I was reading through the June 1915 edition of The Cadenza, "A Monthly Music Magazine for the Musical Home and the Professional Pianist", according to the tagline on the cover. When it was first established in 1894, The Cadenza's tagline read: "Devoted to the Interests of Banjo, Mandolin, and Guitar Players." It started at a time when banjo, mandolin, and guitar (BMG) were becoming quite popular. There was a BMG movement in America and England and hundreds of clubs sprung up on both side of the Atlantic. By 1915, The Cadenza was published by Walter Jacobs, a well-respected composer and teacher in Boston, Massachusetts who purchased the publication in 1908. One of his mandolin arrangements is in this issue along with some other regular contributors such as R. E. Hildreth and Thos. S. Allen. Sometimes the composers would write an article to accompany their tune that was featured. There would also be occasions where the editor would write a little bit about the composer or the piece of music. But in the case of W.F. Nesmith, there's no information at all besides the name of the song and the notes on the page.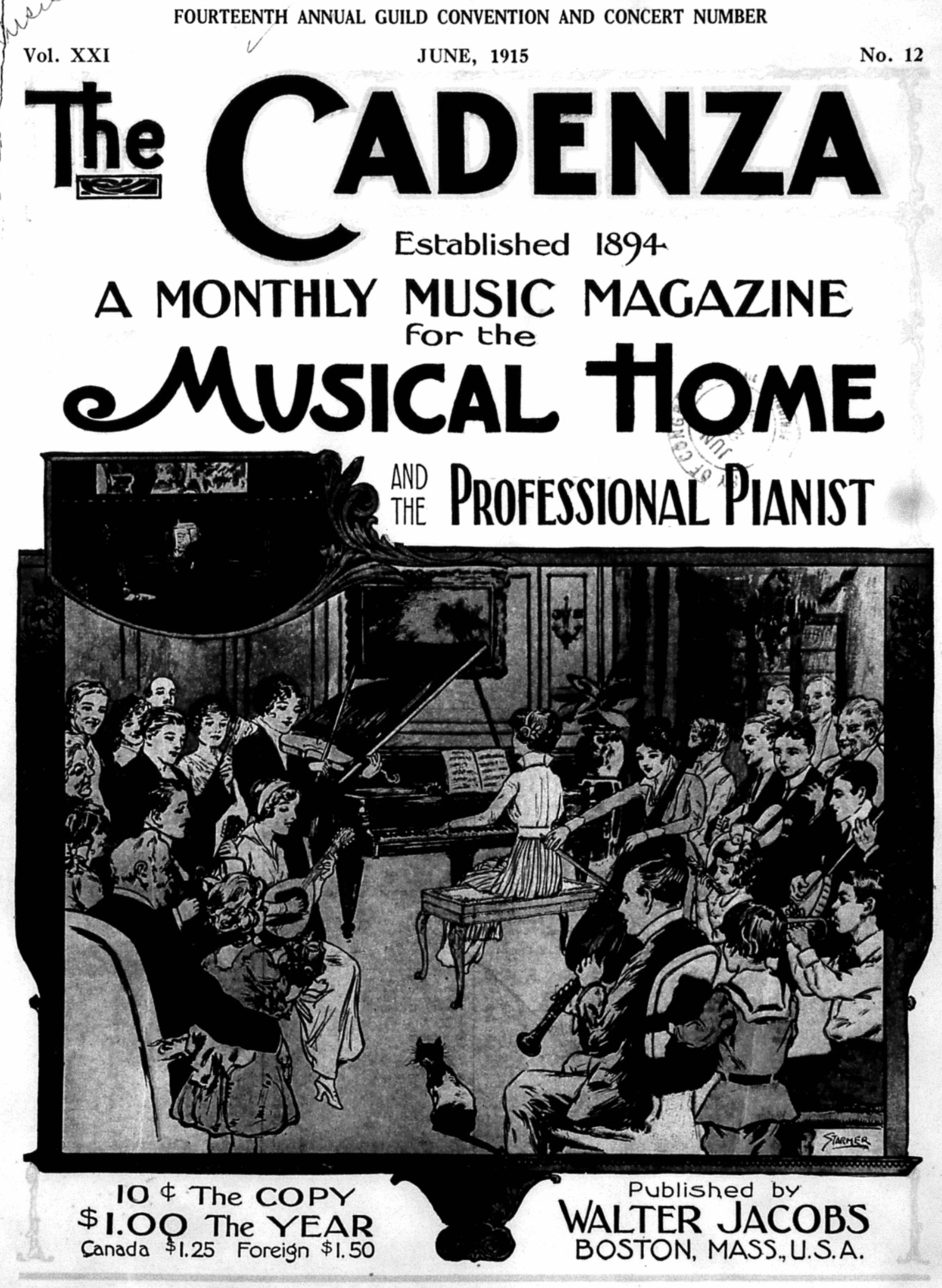 I did a little digging online but it's very hard to find websites that mention both 'guitar' and 'Nesmith' without finding Michael Nesmith pages. I couldn't find any definitive names except the possibility of a Walter Fuller Nesmith (1856-1933) and two named William Franklin Nesmith, 1891-1964 and 1892-1979. Walter Fuller was born in Halifax, Massachusetts which is about an hour and 20 minutes from Boston. Since I noticed that a lot of the contributing composers to these magazines were local to the town where it was published, I would say that Walter is our best bet so far. But beyond this memorial page, I don't know anything else about him. 
There's also the possibility that this isn't by a man. There were a few women who contributed some wonderful pieces to magazines like this such as Carrie V. Hayden. She would quite often be credited as just C.V. Hayden. This naming practice was quite common in the credits of these tunes for male and female composers. I didn't find any female names on the web that fit the time period for those initials though. 
It's a shame that we don't know more about this mysterious Nesmith from over a century ago. The sole composition by W.F. Nesmith, Spring Beauties, is a lovely tune and quite fun to play. This was just before jazz hit the scene and guitarists started playing more in that style. This is typical of what people might call parlor music or salon music. It was music meant for amateurs at home to play, nothing too stressful to study, just a nice piece of music to play on a quiet afternoon. While it might appear to be like classical guitar, I think this style of guitar music stands on its own with a very distinct style. Printed sheet music became quite popular in the 19th century as printing prices went down. This ushered in a new era of amateur musicians playing at home for recreation and the demand for accessible parlor music was high. These musicians weren't competing for fame and fortune. They were playing music for the sheer joy of it and sharing it with others when they visited. This was also the most cost-effective way to have music in your home. Phonographs were still quite new in 1915 and only wealthier people had much of a record collection, if they had any at all. One classical record in 1915 would cost $1.25. This copy of The Cadenza only cost 10 cents. A loaf of bread cost even less: seven cents. These same prices adjusted for inflation in 2023 terms would be $2.09 for a loaf of bread, $2.98 for a magazine, and $37.23 for four minutes of an opera recording. Crazy, right? However, when prices for records came down in the 1930s with newer companies like Decca selling discs for 35 cents a piece, the popularity of sheet music faded. And eventually so did parlor music along with it. 
Based on this one composition, W.F. Nesmith knew how the guitar worked pretty well. Like I said before, there's nothing too stressful to learn here but it's also not 100% for beginners. It's simply quite idiomatic to the guitar and therefore lays on the fingerboard quite nicely. A fine magazine like The Cadenza wouldn't have published something if it wasn't of high quality. Tablature certainly wasn't in fashion at the time so the original is in standard notation only. Luckily we have tab today to help make this more accessible. Regardless of what type of music you like, I think you'll enjoy playing it. And next time you're at a guitar shop, try out a parlor guitar like the Gretsch Jim Dandy. I've had one for about six years and I love it. 
You can use the embedded player to hear the sheet music below. Just press play and adjust the speed to your liking. You're welcome to download a PDF of my tablature edition for free by visiting my sheet music store here. 
Spring Beauties – W.F. Nesmith (1915 parlor guitar tablature) by Kyle Gray Young
Click on the original below to see the full issue plus several more thanks to the wonderful Digital Guitar Archive.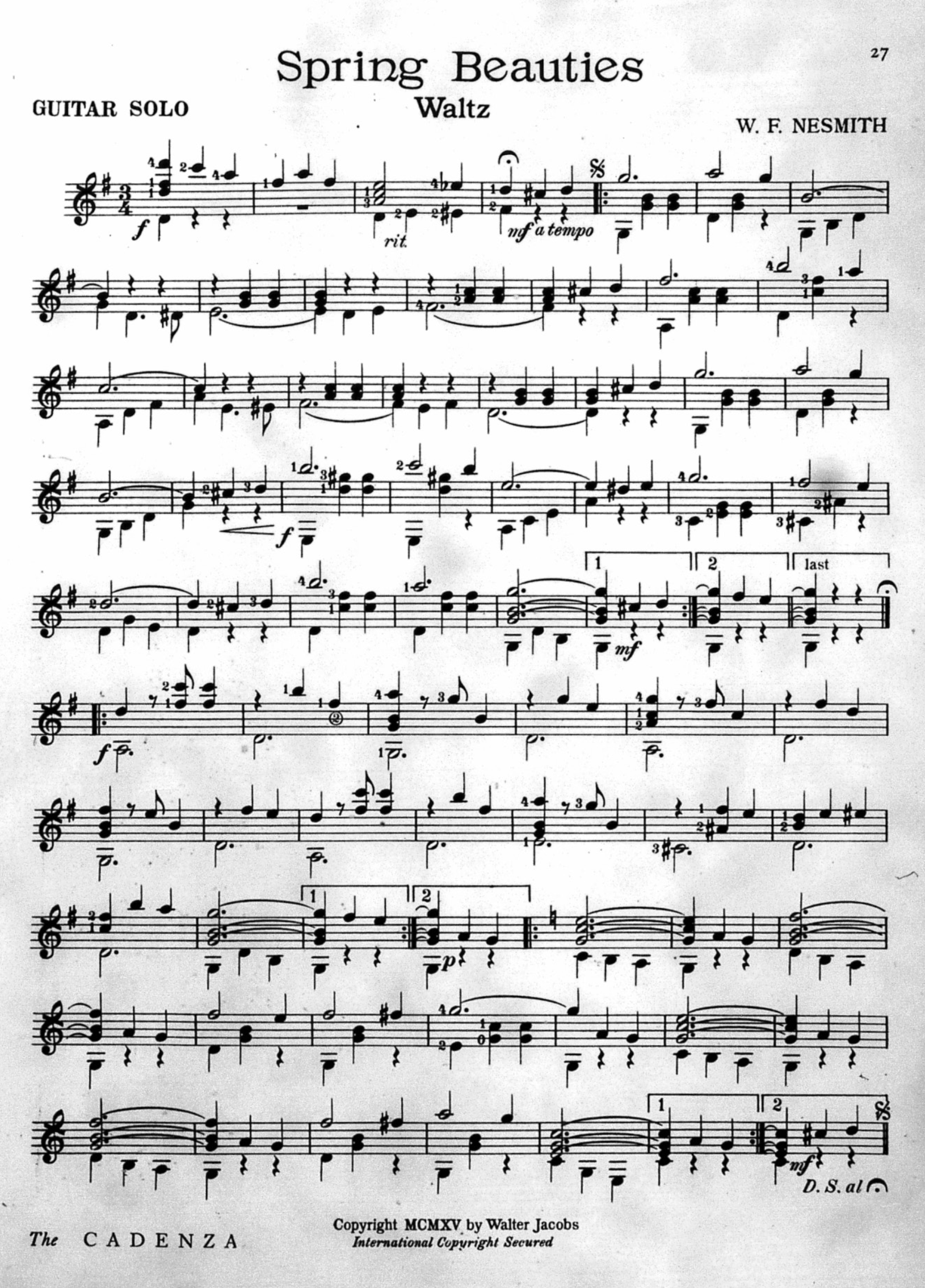 Thanks for reading! Let me know what you think of this tune. Should I transcribe more like this?
Cheers!               
~Kyle